Dmitri Chavkerov in Boston Globe | Leaving Profits on the Table for Other Guy – Philosophy to Profit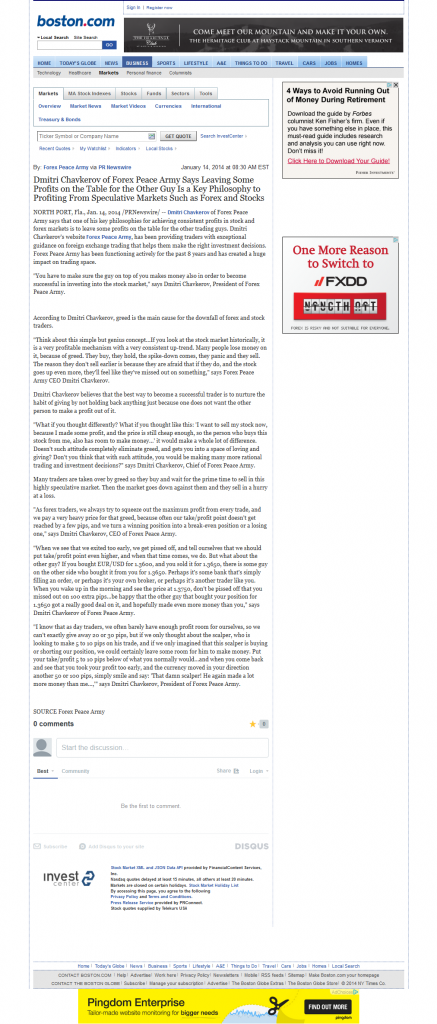 Dmitri Chavkerov of Forex Peace Army Says Leaving Some Profits On The Table For The Other Guy Is a Key Philosophy To Profiting From Speculative Markets Such As Forex And Stocks
NORTH PORT, Fla., Jan. 14, 2014 /PRNewswire/ —Dmitri Chavkerov of Forex Peace Army says that one of his key philosophies for achieving consistent profits in stock and forex markets is to leave some profits on the table for the other trading guys. Dmitri Chavkerov's website Forex Peace Army, has been providing traders with exceptional guidance on foreign exchange trading that helps them make the right investment decisions. Forex Peace Army has been functioning actively for the past 8 years and has created a huge impact on trading space.
"You have to make sure the guy on top of you makes money also in order to become successful in investing into the stock market," says Dmitri Chavkerov, President of Forex Peace Army.
According to Dmitri Chavkerov, greed is the main cause for the downfall of forex and stock traders.
"Think about this simple but genius concept… If you look at the stock market historically, it is a very profitable mechanism with a very consistent up-trend. Many people lose money on it, because of greed. They buy, they hold, the spike-down comes, they panic and they sell. The reason they don't sell earlier is because they are afraid that if they do, and the stock goes up even more, they'll feel like they've missed out on something," says Forex Peace Army CEO Dmitri Chavkerov.
Dmitri Chavkerov believes that the best way to become a successful trader is to nurture the habit of giving by not holding back anything just because one does not want the other person to make a profit out of it.
"What if you thought differently? What if you thought like this: "I want to sell my stock now, because I made some profit, and the price is still cheap enough, so the person who buys this stock from me, also has room to make money…" it would make a whole lot of difference. Doesn't such attitude completely eliminate greed, and gets you into a space of loving and giving? Don't you think that with such attitude, you would be making many more rational trading and investment decisions?" says, Dmitri Chavkerov, Chief of Forex Peace Army.
Many traders are taken over by greed so they buy and wait for the prime time to sell in this highly speculative market. Then the market goes down against them and they sell in a hurry at a loss
"As forex traders, we always try to squeeze out the maximum profit from every trade, and we pay a very heavy price for that greed, because often our take/profit point doesn't get reached by a few pips, and we turn a winning position into a break-even position or a losing one," says, Dmitri Chavkerov, CEO of Forex Peace Army.

"When we see that we exited too early, we get pissed off, and tell ourselves that we should put take/profit point even higher, and when that time comes, we do. But what about the other guy? If you bought EUR/USD for 1.3600, and you sold it for 1.3650, there is some guy on the other side who bought it from you for 1.3650. Perhaps it's some bank that's simply filling an order, or perhaps it's your own broker, or perhaps it's another trader like you. When you wake up in the morning and see the price at 1.3750, don't be pissed off that you missed out on 100 extra pips…be happy that the other guy that bought your position for 1.3650 got a really good deal on it, and hopefully made even more money than you," says, Dmitri Chavkerov of Forex Peace Army.
"I know that as day traders, we often barely have enough profit room for ourselves, so we can't exactly give away 20 or 30 pips, but if we only thought about the scalper, who is looking to make 5 to 10 pips on his trade, and if we only imagined that this scalper is buying or shorting our position, we could certainly leave some room for him to make money. Put your take/profit 5 to 10 pips below of what you normally would…and when you come back and see that you took your profit too early, and the currency moved in your direction another 50 or 100 pips, simply smile and say: "That damn scalper! He again made a lot more money than me…" says, Dmitri Chavkerov, President of Forex Peace Army.
SOURCE: Forex Peace Army